Thanks to those that pointed me to this link from BEZOS EXPEDITIONS.
I hope you find as interesting as I did.
- LRK -
------------------------------
--------------------------
F-1 ENGINE RECOVERY - BEZOS EXPEDITIONS
March 20, 2013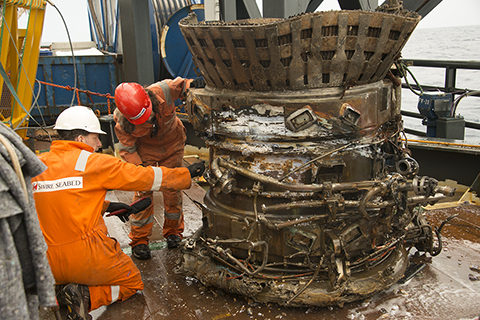 F-1 Thrust Chamber - Credit BEZOS EXPEDITIONS
What an incredible adventure. We are right now onboard the Seabed Worker headed back to Cape Canaveral after finishing three weeks at sea, working almost 3 miles below the surface. We found so much. We've seen an underwater wonderland – an incredible sculpture garden of twisted F-1 engines that tells the story of a fiery and violent end, one that serves testament to the Apollo program. We photographed many beautiful objects in situ and have now recovered many prime pieces. Each piece we bring on deck conjures for me the thousands of engineers who worked together back then to do what for all time had been thought surely impossible.
snip
--------------------------------------------------------
BEZOS 2012
- LRK -
--------------------------------------------------------
http://www.bezosexpeditions.com/learn-more.html
Welcome to the Apollo 11 F-1 Engine Recovery Website
March 28, 2012
The F-1 rocket engine is still a modern wonder — one and a half million pounds of thrust, 32 million horsepower, and burning 6,000 pounds of rocket grade kerosene and liquid oxygen every second. On July 16, 1969, the world watched as five particular F-1 engines fired in concert, beginning the historic Apollo 11 mission. Those five F-1s burned for just a few minutes, and then plunged back to Earth into the Atlantic Ocean, just as NASA planned. A few days later, Neil Armstrong stepped onto the moon.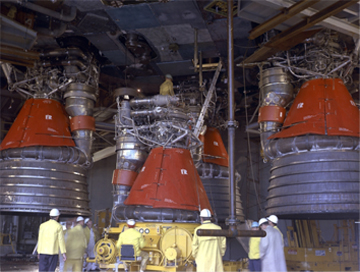 snip
--------------------------------------------------------
Wikipedia link
- LRK -
--------------------------------------------------------
The
F-1
is a
rocket engine
developed by
Rocketdyne
and used in the
Saturn V
. Five F-1 engines were used in the
S-IC
first stage of each Saturn V, which served as the main launch vehicle in the
Apollo program
. The F-1 is still the most powerful single-chamber liquid-fueled rocket engine ever developed.
[1]
The
RD-170
has slightly more thrust, using a cluster of four smaller combustion chambers and nozzles.
[2]
History
The F-1 was originally developed by Rocketdyne to meet a 1955
US Air Force
requirement for a very large rocket engine. The eventual result of that requirement was two different engines, the
E-1
and the much larger F-1. The E-1, although successfully tested in static firing, was quickly seen as a technological dead-end and was abandoned for the larger, more powerful F-1. The Air Force eventually halted development of the F-1 because of a lack of requirement for such a large engine. However, the recently created
National Aeronautics and Space Administration
appreciated the usefulness of an engine with so much power and contracted Rocketdyne to complete its development. Test firings of F-1 components had been performed as early as 1957. The first static firing of a full-stage developmental F-1 was performed in March 1959. The first F-1 was delivered to
MSFC
in October 1963. In December 1964 the F-1 completed flight-rating tests. Testing continued at least through 1965.
[3]
For seven years of development F-1 tests revealed serious
combustion instability
problems which would sometimes cause
catastrophic failure
.
[4]
Progress on this problem was initially slow, as the problem onset was intermittent and unpredictable. Oscillations of 4 kHz with harmonics to 24 kHz were noticed. Eventually engineers developed a technique of detonating small explosive charges (which they called "bombs") outside the combustion chamber through a tangential tube (RDX, C4 or black powder were used) while the engine was firing, which allowed them to determine exactly how the running chamber responded to variations in pressure and to determine how to nullify these oscillations. The designers could then quickly experiment with different co-axial fuel-injector designs to obtain the one most resistant to instability. These problems were addressed from 1959 through 1961. Eventually the engine's combustion was so stable it would
self-damp
artificially induced instability within 1/10 of a second.
snip
--------------------------------------------------------
Thanks for looking up with me.
==========================
================
==
WHAT THE MIND CAN CONCEIVE, AND BELIEVE, IT WILL ACHIEVE - LRK -
==============================
==============