http://www.fosterandpartners.com/News/492/Default.aspx
I would like to see these designs actually tested on the Moon.
What company will put together the capital to make it happen?
Read your contract carefully - "Welcome to Moonbase" - Ben Bova.
How soon can we make 'science fiction' become 'science fact'?
- LRK -
-----------------------------
Foster & Partners designs 3D printed lunar base
31 January 2013 by Andrea Klettner
The structure will be made from lunar soil
Foster & Partners has revealed its designs for a 3D-printed moon base made from lunar soil.
In 2009 the European Space Agency enlisted the help of the practice, which has devised a weight-bearing 'cantenary' dome design with a cellular structured wall to shield against small meteoroids and space radiation.
Inside a pressurised inflatable space would be used to shelter astronauts.
-----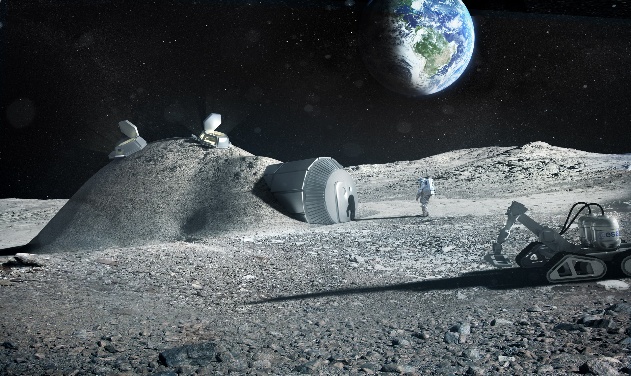 Foster & Partners' Lunar base made with 3D printing
-----
The base's design was guided by the properties of 3D-printed lunar soil, with a 1.5 tonne building block produced as a demonstration.
"3D printing offers a potential means of facilitating lunar settlement with reduced logistics from Earth," said Scott Hovland of ESA's human spaceflight team.
"The new possibilities this work opens up can then be considered by international space agencies as part of the current development of a common exploration strategy."
snip
-----------------------------
Foster + Partners
- LRK -
-----------------------------
31/01/2013
Foster + Partners works with European Space Agency to 3D print structures on the moon
Foster + Partners is part of a consortium set up by the ESA to explore the possibilities of 3D printing to construct lunar habitations. Addressing the challenges of transporting materials to the moon, the study is investigating the use of lunar soil, known as regolith, as building matter.
The practice has designed a lunar base to house four people, which can offer protection from meteorites, gamma radiation and high temperature fluctuations. The base is first unfolded from a tubular module that can be transported by space rocket. An inflatable dome then extends from one end of this cylinder to provide a support structure for construction. Layers of regolith are then built up over the dome by a robot-operated 3D printer to create a protective shell.
To ensure strength while keeping the amount of binding "ink" to a minimum, the shell is made up of a hollow closed cellular structure similar to foam. The geometry of the structure was designed by Foster + Partners in collaboration with consortium partners – it is groundbreaking in demonstrating the potential of 3D printing to create structures that are close to natural biological systems.
Simulated lunar soil has been used to create a 1.5 tonne mockup and 3D printing tests have been undertaken at a smaller scale in a vacuum chamber to echo lunar conditions. The planned site for the base is at the moon's southern pole, where there is near perpetual sunlight on the horizon.
The consortium includes Italian space engineering firm Alta SpA, working with Pisa-based engineering university Scuola Superiore Sant'Anna. Monolite UK supplied the D-Shape™ printer and developed a European source for lunar regolith stimulant, which has been used for printing all samples and demonstrators.
Xavier De Kestelier, Partner, Foster + Partners Specialist Modelling Group:
"As a practice, we are used to designing for extreme climates on earth and exploiting the environmental benefits of using local, sustainable materials – our lunar habitation follows a similar logic. It has been a fascinating and unique design process, which has been driven by the possibilities inherent in the material. We look forward to working with ESA and our consortium partners on future research projects."
snip
-----------------------------
BBC article.
- LRK -
-----------------------------
1 February 2013
3D printed moon building designs revealed
Architects Fosters and Partners have revealed designs for a building on the Moon that could be constructed from material already on its surface.
An inflatable structure would be transported from Earth, then covered with a shell built by 3D printers.
The printers, operated by robots, would use soil from the Moon, known as regolith, to build the layered cover.
The proposed site for the building is the southern pole of the Moon.
It is designed to house four people and could be extended, the firm said.
In 2010 a team of researchers from Washington State University found that artificial regolith containing silicon, aluminium, calcium, iron and magnesium oxide could be used by 3D printers to create solid objects.
The latest plans are the result of a collaboration between a number of organisations including the European Space Agency.
The consortium tested the practicalities of using a printer on the Moon by setting up a D-shape 3D printer, which are used to print very large house-sized structures, in a vacuum chamber with simulated lunar material.
snip
-----------------------------
As seen at DEXIGNER.
- LRK -
-----------------------------
Foster + Partners Works with ESA to 3D Print Structures on the Moon
January 31, 2013
snip
-----------------------------
And at SpaceRef
- LRK -
-----------------------------
Building a Lunar Base with 3D Printing
By Keith Cowling Posted January 31, 2013 1:13 PM
Setting up a lunar base could be made much simpler by using a 3D printer to build it from local materials.
Industrial partners including renowned architects Foster + Partners have joined with ESA to test the feasibility of 3D printing using lunar soil. "Terrestrial 3D printing technology has produced entire structures," said Laurent Pambaguian, heading the project for ESA.
"Our industrial team investigated if it could similarly be employed to build a lunar habitat." Foster + Partners devised a weight-bearing 'catenary' dome design with a cellular structured wall to shield against micrometeoroids and space radiation, incorporating a pressurised inflatable to shelter astronauts. A hollow closed-cell structure - reminiscent of bird bones - provides a good combination of strength and weight.
snip
-----------------------------
Now we need to find reasons to make the trip worthwhile. Something more than just, "Been there, done that."
- LRK -
============================================

WHAT THE MIND CAN CONCEIVE, AND BELIEVE, IT WILL ACHIEVE - LRK -

============================================