Well how interesting. We waited for an asteroid flyby and we get the added attraction of a light show and big boom from a meteor.
Something like, I bet you didn't think we have many Earthquakes but that is another subject.
What if you would like to know about possible encounters BEFORE they happen?
- LRK -
---------------------------------------------
Meteor and asteroid events give new focus for our vital Sentinel telescope
A meteor strike in Russia and an asteroid near-miss graphically reveal the risks facing planet Earth. But we're not powerless
Rusty Schweickart
guardian.co.uk
, Friday 15 February 2013 11.40 EST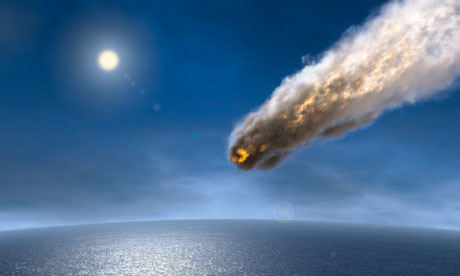 On 15 February 2013 a meteor exploded over Siberia and an asteroid is expected to pass 17,100 miles above the earth. Photograph: Getty Images
We can look at asteroid 2012 DA14 (or DA14 for short), which will have missed the Earth by a mere 17,000 miles, in two ways. DA14 can be seen as one of about 10,000 near-Earth
asteroids
that have been discovered in the past 15 years that pass close to our planet, threatening an impact. However, since we have seen these asteroids and are currently tracking them, we can predict any upcoming impacts. Happily, none of those we've found to date pose any substantial threat of impact.
Nevertheless, the Earth
is
hit by one of these relatively small DA14-sized asteroids about once every 300 years, on average. And "small" is far, far from insignificant. The DA14-like asteroid that
hit Earth in 1908
did so in a remote region of Siberia, where the explosion (the equivalent of about 250
Hiroshima nuclear bombs
going off at one time) destroyed over 800 square miles of the countryside. This disaster zone, superimposed on any city in the world, would have wiped it and all its residents from the face of the Earth. I refer you, as a graphic reminder of the power of such explosions, to the post-facto Hiroshima bomb pictures
readily found online
.
snip
---------------------------------------------
The B612 Foundation is trying help us find those in bound rocks before they get to us.
- LRK -
---------------------------------------------
snip
---------------------------------------------
B612 Foundation.
- LRK -
---------------------------------------------
How did B612 come about? Why are we hunting asteroids? Read the back story on this critical mission.
Official statement, February 15, 2013: The recent meteor explosion over Chelyabinsk is a wake-up call to Earth….Continue Reading
The B612 Foundation believes we should find threatening asteroids before they find us. Today's meteor explosion over Chelyabinsk is a wake-up call that the Earth orbits the Sun in a shooting gallery of asteroids, and that these asteroids sometimes hit the Earth. Later today, a separate and larger asteroid, 2012 DA14, narrowly missed the Earth passing beneath the orbits of our communications satellites. We have the technology to deflect asteroids, but we cannot do anything about the objects we don't know exist. To date, less than 1% of asteroids larger than the one that leveled Tunguska in 1908 have been tracked. The B612 Foundation Sentinel Space Telescope, to be launched in 2018, will provide a comprehensive map of the locations and trajectories of threatening asteroids and will give humanity the decades of warning needed to prevent asteroid impacts with existing technology. By the end of its planned lifetime, Sentinel will have discovered well over 90% of the asteroids that could destroy entire regions of Earth on impact (those larger than 350ft in diameter) and more than 50% of the currently unknown DA14-like near-Earth asteroids.
snip
---------------------------------------------
The B612 Foundation needs you to help them look up.
Thanks for looking up with me.
- LRK -
==============================================
WHAT THE MIND CAN CONCEIVE, AND BELIEVE, IT WILL ACHIEVE - LRK -
==============================
================