Building the Great Cathedrals
I happened to watch a NOVA re-run on building of the Great Cathedrals. Some of these took hundreds of years to complete.
- LRK -
-----------------------
These skyscrapers of stone dominated skylines for nearly a thousand years. Now, a team of scholars and builders investigates how they we went up, and why some of the tallest fell down. Embedded in stone and stained glass, they uncover a hidden mathematical code—ripped from pages of the Bible—that was used as a blueprint to build the great Gothic Cathedrals.
Co-produced with NOVA, Telfrance, and ARTE/France
Premiere Airdate: October 19, 2010 on NOVA/PBS
snip
-----------------------
I thought maybe I could discover how and why this was possible and would there be anything that might give a clue to how one might go about building some large
edifice
on the Moon or in space.
- LRK -
----------------------
Building the Great Cathedrals
How did medieval engineers construct magnificent skyscrapers of glass and stone? Airing December 26, 2012 at 9 pm on PBS
Originally aired 10.05.11
Program Description
Take a dazzling architectural journey inside those majestic marvels of Gothic architecture, the great cathedrals of Chartres, Beauvais and other European cities. Carved from 100 million pounds of stone, some cathedrals now teeter on the brink of catastrophic collapse. To save them, a team of engineers, architects, art historians, and computer scientists searches the naves, bays, and bell-towers for clues. NOVA investigates the architectural secrets that the cathedral builders used to erect their towering, glass-filled walls and reveals the hidden formulas drawn from the Bible that drove medieval builders ever upward.
snip
----------------------
The description of the building problems and solutions were interesting and today I should think architects and engineers would be up to the challenge of building in the hostile environment of space. Then again, why build? What does it take to have the dedication and financing to pull off something grand?
Money, hmmmm. Span of attention longer than some political administration?
- LRK -
----------------------
Cathedral Building in the Middle Ages
The scale of medieval cathedrals amazes visitors to this day. Find out what drove people to build such monumental buildings, and how they did it.
Cathedral Building As an Expression of Faith
The building of monumental cathedrals in the middle ages was a reflection of faith and the channel for much of the creative energy of medieval European society.
Although cathedral building was driven by religious figures or institutions, it was often a community effort. From the mid-twelfth century, the Church started granting indulgences (forgiveness of sins) to those who would help to build a church or cathedral, and therefore, rather than going on crusades, which had been a popular means of absolving sins in the late eleventh century, people dedicated more effort to the construction of houses of God instead.
There was always a faction among the pious that disapproved of excessive spending on the construction and decoration of lavish religious buildings, but these were a minority, and the dominant feeling was one of great enthusiasm, ambition, and a desire to excel in this quest to construct magnificent buildings reflecting God's glory.
As cathedrals took decades, and often even centuries to complete, few people who worked on them expected to see them finished during their lifetimes. Being involved in the construction of a cathedral, even as the building patron, required a willingness to be part of a process that was larger than oneself.
Leading & Financing the Construction
The construction of a cathedral was often led and financed to a large extent by the Cathedral Chapter (the senior clergy), while bishops tended to contribute at their own free will. However, at Durham, the bishops' contribution - both intellectual and financial, was substantial.
Cathedral chapters financed the construction by actively raising money from their congregations, by creating systems of fining clerics for transgressions such as tardiness, and by arranging for relics to go on tour. Taking relics on tour was a very lucrative means of fund-raising.
snip
----------------------
A few more links if you want to learn more about constructing buildings that stand the test of time. It looks that there is much to learn if you ask the right questions. See what you think.
- LRK -
----------------------
Durham Cathedral — An Overview
Durham Cathedral captures a thousand years of British political, social and religious history. Discover the story of a nation through this monumental building.
What is Durham Cathedral?
Durham Cathedral is a
Norman
building constructed between 1093 and 1133 in the
Romanesque style
. It was founded as a monastic cathedral built to house the shrine of
St Cuthbert
, replacing an earlier church constructed in his honour.
Why is it Architecturally Important?
Durham's architectural value lies in the fact that it is the oldest surviving building with a stone vaulted ceiling of such a large scale. This may not seem remarkable today, but developing the know-how to roof large buildings with stone rather than wood shaped the course of European architecture from then on.
Durham Cathedral is also valuable because its Norman architecture has survived largely intact – the addition of two chapels and a later central tower notwithstanding. Most other important Norman buildings in Britain were substantially modified, often beyond recognition. As such, it is recognised both as an exemplar of the Romanesque architecture, and as one of the world's greatest cathedrals.
Find out more.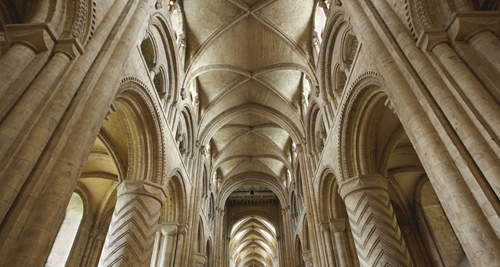 The stone vault of the nave of Durham Cathedral: an architectural milestone.
© Durham Cathedral and Jarrold Printing
snip
----------------------
The BBC YouTube movies adds some more to the reasons why - invaders said so and wouldn't you like to work for me and make some money and have the power of the all mighty behind you! Looks like I have an up hill battle to seeing anything great on the Moon unless a vision told me we would be hit by an asteroid and I should ensure that mankind isn't wiped out. hmmmmm.
- LRK -
----------------------
The Medieval Mind: How To Build A Cathedral - ©BBC - 58:24 min
The great cathedrals were engineering marvels of the medieval world built with not much more than pulleys and ropes, chisels and hammers and set squares. Architectural historian Jon Cannon
snip
----------------------
Obviously I don't understand all that went into building these cathedrals and there are resources if interested.
This one not so cheap so just pass you the link should you be interested in learning more.
- LRK -
THE GENEROSITY OF THE FAITHFULWIM VROOM
Distributed for Amsterdam University Press
734 pages | 66 color plates, 20 halftones | 6 3/4 x 8 3/4 | © 2010
This volume is the first complete overview of the process of commissioning and financing the construction of cathedrals during the Middle Ages. The first part of the book outlines the sources of wealth from which the commissioners of these projects could draw, including contributions from the bishop, the chapter, the city, and above all those parishioners for whom the structure was to be erected. The second part is a case study of the financing of Utrecht's cathedral, for which the archives are among the best-preserved in Europe. Vroom concludes with an analysis of the financing for other notable cathedrals, including St. Peter's in Rome.
snip
----------------------
And from Roger Launius's Blog some anniversaries to look at for 2013.
- LRK -
Many people have asked what anniversaries are upcoming in 2013 in space history. Here is a quick list. Are there items that I should add to this accounting?
1923—90 years ago
December: Die Rakete zu den Planetenräumen (The Rocket into Interplanetary Space) by Hermann Oberth was published in Germany; it served to promote considerable discussion of rocket propulsion worldwide.
1953—60 years ago
20 August: The Army's Redstone Arsenal launched the first Redstone rocket from its Atlantic Ocean test range at Cape Canaveral, Florida.
1958—55 years ago
31 January: As part of Project Explorer, the United States launched its first artificial satellite, Explorer 1, atop the interregional ballistic missile Juno 1.
snip
Posted in

Apollo, Cold War Competition, History, International Space Station, Lunar Exploration, Personal, Politics,Science, Space, Space Shuttle
|
Tagged

1960s, Apollo, cold war, Department of Defense, History, international relations, International Space Station, Mars, Moon, Moon race, NASA, politics, presidential power, public perceptions,public policy, science, Soviet Union, space science, space shuttle, U.S. Civil Space
|
Leave a comment
----------------------
Thanks for looking with me.
==========================
=================
=
WHAT THE MIND CAN CONCEIVE, AND BELIEVE, IT WILL ACHIEVE - LRK -

============================================